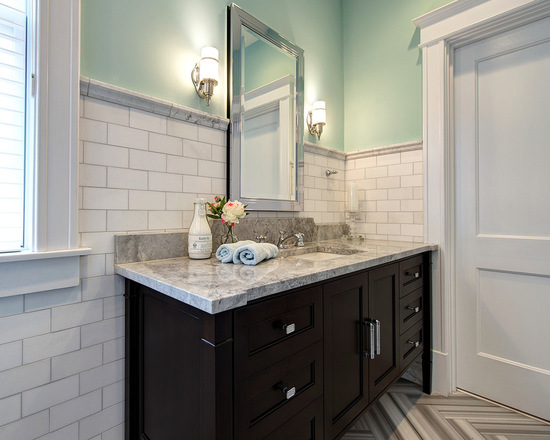 Give Your Bathroom a Boost with Custom Stone Vanities
Since the middle of the last century, bathroom vanities have primarily been made of cheaply-produced (and cheap looking) materials like fiberglass. Additionally, they tend to stain and scratch easily, and can give bathrooms a very dated appearance.
Today, more and more homeowners are replacing their tacky vanities with elegant-looking ones made of natural stone, like marble and granite. Today, people are yearning for a time when homes were made by hand by skilled craftsmen, with "real" materials. The era of mass-manufactured, disposable features has run its course.
Marble is the traditional material for bathroom vanities since the advent of indoor plumbing. From the late Victorian and early Edwardian periods, marble was the defacto standard, and this remained the case up until around the second World War. If you're restoring an old home, you can't go wrong with marble—and while you may be able to find an actual antique marble vanity, you will not only need to restore it, but either modify it to fit your needs, or retrofit or completely replace your plumbing and cabinetry to match. And with people needing more space today than a century ago, this may not even be possible. If you still want a classic look, why not have a modern day craftsman create a custom marble vanity to exactly meet your needs for both style and function.
And if your home isn't historic, but you still have an appreciation for the hand-made, a custom granite vanity in a more modern style can be designed and created just for you. You can get a luxurious look that looks like it was made just for you—because it was!
If you're considering a custom stone vanity for your bathroom renovation project, browse our site for ideas and get in touch with us using the contact form below to discuss your project's needs and budget.