At Marble-Thresholds.com, high quality all-natural stone products at wholesale prices are simply a call away. Our Florida-based firm offers homebuilders and subcontractors with the finest stone home windowsills, shower aesthetics, as well as flooring tiles on the marketplace. We are a direct importer specializing in bulk product distribution to our valued buyers in the United States.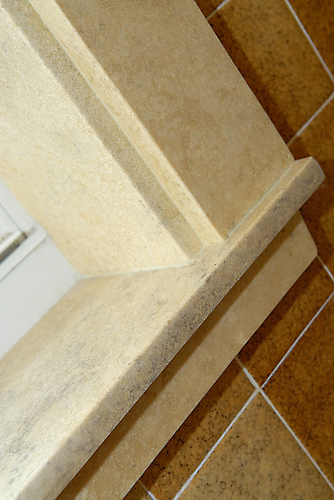 We acquire directly with abroad quarrying operations and ship factory-cut windowsills in specifically organized crates, all set for installment. One of the most prominent stone products used for interior windowsills is travertine. We can supply our buyers with every one of the typical widths and densities of travertine windowsills, and our mass import technique enables us to conserve the client an incredible quantity.
Optimum Quality Travertine
Travertine is a form of limestone that forms when water percolates through a rock layer. Travertine has been a prized building material considering that the days of the Roman Empire.
The color shade matches lighter tinted floor covering and walls extremely well. This rustic look is enticing and gives home builders a material that exhibits a look of authenticity. Travertine is typically loaded with little holes.
Some facts about travertine:
– Travertine is one of the two most basic requirement home windowsills in Florida
– Most floors are in cream/beige variety shades in Florida. For that reason travertine is extensively utilized to match
– Travertine could be reduced to exacting sizes despite the fact that it is softer compared to a lot of other stones
Our travertine is Ivory Medium, which is the color shade preferred by the majority of consumers. Our firm ships travertine items straight from the quarry and supplier to our head office in Miami.
Travertine is reduced into large slabs at the quarrying site, sent to a specialized cutter, as well as cut right into the preferred size, width, and density. The mass order is then sent by means of container ship to our headquarters in Florida, where it is then shipped to the client address. The orders are loaded overseas and thoroughly loaded into wooded crates.
We Specialize In Window Sills
A natural stone home windowsill provides exceptional security against water intrusion, and its long lasting high quality increases the value of the property. Travertine is one of one of the most prominent products utilized for window sills in Florida, yet the high expense of this product in the 20th century made it difficult for many individuals to obtain it. Our straight import service makes it a lot easier for professionals to order this product in bulk; however, we provide our business consumers' home windowsills reduced to match the requirement frame measurements.
We have a constant flow of orders and constantly have a delivery in procedure. We stock all basic as well as special dimensions consisting of 5″ X74″ as well as 6″ X74″. We likewise have all widths beginning from 3 inches to 12″ X 74″. As a result, purchasers could depend on us to use the specific variety of needed pieces in whatever size, and thickness is required.
Many home window frames need a sill that is 74 inches, 56 inches, or 37 inches in length. Our abroad producer cuts sills for each of these needed sizes, and also our sills are readily available in widths ranging from three inches to one foot. Many purchasers call for 5/8-inch density, but we can likewise supply travertine sills that are 3/4-inch thick.
Depending on the sort of sill bought by the consumer, our minimum shipment will certainly be either 50 or 100 pieces. This mass delivery technique conserves the customer a great deal of money given that our import tolls are lowered. When the order reaches our company head office, it is meticulously evaluated as well as sent out directly to the job site or to the specialist's company location.
Numerous windowsill job instructions require shades such as Roman Travertine, Iroc Beige, and also Durango Cream. Our Ivory Medium travertine sills are excellent for tasks asking for a shades matching these varieties.
Information about Bulk Orders
Our service is intended to supply contractors as well as construction firms with large amounts of travertine material, ready for setup in brand-new real estate or commercial developments. We deliver our natural stone materials in bulk. Home enhancement providers will likewise take advantage of our bulk purchasing service.
Because we keep a significant supply in our Miami warehouse, we could often fill a small order of 100 pieces in a single day and also ship it within 24 hrs. Our purchasers in the improvement service will certainly appreciate the wholesale rates on orders for 50-100 pieces. We manufacture and import travertine sills frequently as well as each size is in stock a minimum of 3000 pieces at all times. Tile shops as well as floor covering item merchants that stock travertine often will likewise be able to take advantage of our small cost on medium-size crate orders.
These orders are loaded by our overseas manufacturer and also sent through container ships in big packaging crates. We understand that not every order will be the very same in terms of home window sill sizes, sizes, as well as variety of pieces, and we do not charge additional for modifications made that override the guidelines for previous orders. Each order could be custom-made in accordance with the present requirements of contractors and subcontractors. Larger orders for countless home windowsills requires a preparation of two or three months.
Instead, our overseas quarrying operations partners do this for us. If a client wishes to acquire a large option of travertine products in a size that is not common, we will be delighted to develop a unique order. This will certainly call for a longer shipping time compared to an order comprised of typical sill sizes, however as long as the order satisfies the minimal item requirement, our firm is ready to assist.
The travertine items are packed with cushioning material that assists to reduce breakage during transit. Our storehouse contains a big inventory of windowsills made from travertine. We pack our shipments in strong wooden shipping crates that are stackable, making it simple to fill them into a trailer.
A Huge Warehouse Inventory
We ship travertine sills across the country utilizing a business distribution service, and also because we deliver just wholesale, customers take pleasure in rather economical product fees when purchasing from our business warehouse.
Upon arrival at the job site or organization place, customers can inspect the product and also report any kind of damage to us. We offer just full crates of our all-natural stone items.
Travertine is commonly spun to produce a much more rustic look, and also purchasers in Florida typically use this stone for thresholds, fire place mantles, or to accent the bathroom. Along with being a prominent home window sill item, travertine is additionally made use of for wall surfaces, mosaics, and also exterior paving tasks.
We likewise provide our customers with a full line of other threshold materials consisting of marble and also granite. We supply threshold product in travertine as well as Absolute Black Granite, Nuevo White Carrara, Crema Sahara Marfil, as well as Pure White Thazoz.
Marble saddle thresholds are offered in dimensions from 36-inch to 74-inch sizes. Our natural stone products are readily available with straight boundaries or beveled sides. Buyers can check out the various designs and sizes on our business's product pages. Many threshold orders require a minimum of 50 items.
High quality Guaranteed
We make every effort to bring the finest travertine as well as marble items to our clients. Our abroad manufacturers have years of experience in the art of shaping and reducing natural rock products. That is why we personally contract with just one of the most seasoned quarrying operations as well as stone cutting professionals in the world.
We run on the concept of top-quality service as well as excellent materials. This is conventional in the sector as well as is almost constantly figured into the expenses by the industrial consumer. Our mass shipping service has actually verified to be one of the most trustworthy approach of carrying natural stone with a minimum of damages.
Contact United States Today
Whether the task requires 100 pieces of 3 X 37-inch travertine sills or a huge shipment of threshold material, our firm is prepared to provide the lowest prices readily available. Keep in mind that mass buying will require a special reducing procedure performed overseas, so a lead time of as long as 10 weeks will certainly be essential. We will be greater than delighted to talk about orders for brand-new customers and use information regarding overseas shipments of all-natural stone products.
We are the favored source for travertine because:
– We ship in mass
– We offer the best size option
– We equip the most preferred colors and designs
– We deliver across the country
We have a continuous supply of travertine entering our Florida storage facility, however if the consumer calls for an unique order for non-standard sizes, we prepare to help. Please use the useful get in touch with page to direct any kind of questions to our educated sales team. Get in touch with us today. Our business is happy to use the client with the finest quality all-natural stone products offered anywhere, as well as we offer the appropriate prices, assured!
One of the most prominent rock materials utilized for interior window sills is travertine. Travertine is one of the most popular products utilized for home window sills in Florida, yet the prohibitive expense of this product in the 20th century made it challenging for lots of individuals to acquire it. Lots of window sill project directions call for shades such as Roman Travertine, Iroc Beige, and Durango Cream. Our firm does not reduce any type of travertine right into home window sill items. Our warehouse includes a big stock of home window sills made from travertine.