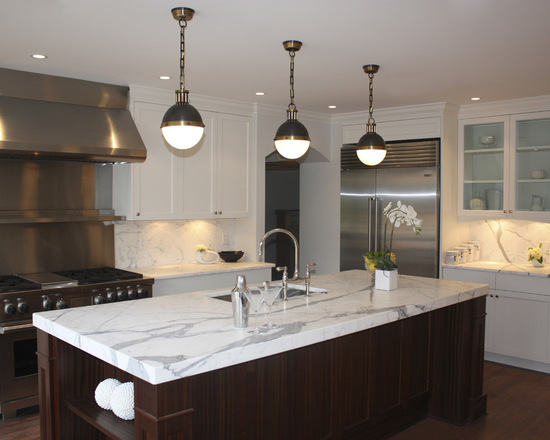 Add Unexpected Elegance with a Marble or Granite Kitchen Island Top
When people renovate a kitchen, or add an island to one, the typical method of thinking is to use the same material on the island top that is used on the countertops.
While this can be a nice way to tie the feature in to the rest of the room, it can also be very limiting. An island is already a focal point, usually standing dead center in the room. Why try to make it blend in? You can make it stand out even more and really get your guests to notice by using an unconventional material on top.
If your countertops are made of granite or butcher block, consider a marble kitchen island top. Marble has a lot of great benefits that we've written about previously in our "Kitchen Countertops: Butcher Block, Granite… Marble?" article, and the same can be said for its use on and island as well. If you have dark granite on the counters, you can use white marble on your island top for an elegant look that will really stand out.
If you're a trendsetter and already have marble countertops, then a granite island top may provide the right look for your kitchen. Contrast light, cool marble with a dark granite island top for a real "wow" factor.
Whether you're considering a marble or granite kitchen island top, feel free to browse our site for ideas and get in touch with us using the contact form below to discuss your project's needs and budget.